When it comes to using a blast hole drill, you're going to need to have the best equipment available on the market. At Gill Rock Drill Company, we are our own supplier and manufacturer, and only provide the best tools and equipment for our customers, which include our blast hole drill.
For the perfect drill to get the job done, while keeping the work area both productive and completely safe, especially if the work is being conducted within a mine, you're going to need equipment that caters to efficiency, reliability, and durability. We only sell our customers tools and equipment that is both safe and gets the job done properly, without burning a hole in their wallet!
Whether it be contract drilling, rental, one of our many services, or our offered support, you can always rely on Gill Rock Drill Company to provide training and technical expertise to all work involved. Gill Rock Drill Company is a full service manufacturer and distributor of drilling equipment, tools, and supplies, including our blast hole drill. In addition to the full line of new Gill Beetle Drills and air compressors we currently have up for sale, we also provide the following;
Contract drilling with our trained drill crew, who also specialize in using a blast hole drill
A fleet of Gill Beetle Drills paired with air compressors that are specifically chosen for jobs.
On-site or in-house repair and servicing for all drilling equipment.
Used air compressors and Gill Beetle Drills, which use our blast hole drill, currently available for sale.
Daily, weekly, monthly, and long-term rentals on a blast hole drill.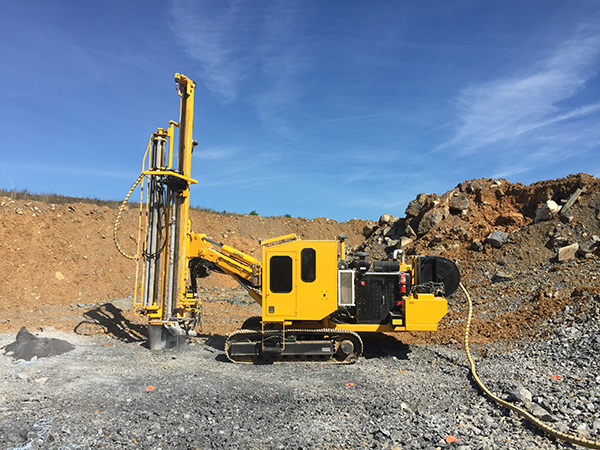 High Performance Blast Hole Drill
Our blast hole drill has the perfect balance of rotary head performance, depth capacity results, bit load, and air flushing, to ensure a smooth, proper performance through ease of use. Our equipment overall is known for being incredibly durable, having lightning speed, and agile mobility. The equipment and tools that we currently offer our customers constantly reassures that drilling with our brand is made easier through advanced pipe changing, leveling, and tramming, thanks to our latest and greatest through our machinery.