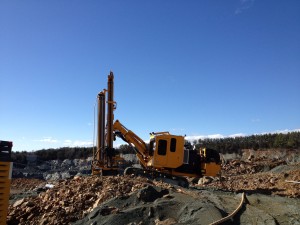 Our flagship product, the Gill Beetle Drilling Rig, is a versatile, affordable option for all of your drilling needs. The Gill Beetle Drill Rig is one drill that can be used in multiple applications. With the Gill Beetle you can drill holes from 4" to 24" in diameter making it easy to move from mining to construction and water well to geothermal.
We take great pride in the local craftsmanship that goes into the Gill Beetle Drilling Rig including designing fabricating, and assembling each drill to meet your specific needs. Even if you are just looking to update or modify something you already own, our technicians and engineers will work with you to custom design whatever you need.
A Reliable Drill Rig
Easy to maintain; most routine maintenance and repairs can be performed by the owner/operator
Manual and electric hydraulic controls
Easily transportable
Modulated air control valve
Separate air supply
Most Gill Beetles Drill Rigs have a life span of over 30 years
Easy to operate
Consistent quality and performance
Fuel efficient
Powerful yet compact
Air and water flow can be regulated separately
Versatile Drilling Rig
Drills holes 4" to 24" in diameter
Designed to go from mining to construction, water well to geothermal, and everywhere in between with minimal modification
Compatible with air compressors supplying 100psi to 350psi and 750cfm to 1600cfm
Crawler mounted
Optional 2 speed rotary head
Oscillating crawlers
No leveling jacks required
Able to drill holes vertically, horizontally, and every angle in between
Separate air supply
Affordable Drill Rig
Low initial capital outlay
Low operating costs
No special permits required
Easy to maintain and repair
Fuel efficient
Easy to operate, minimal training required
Cab and non-cab models available
New, used, and rental options available
Here at Gill Rock Drill, our goal is to build strong, lasting relationships with our customers based on honesty, integrity and trust. To learn more about the services we offer or to design your specialty drilling equipment, contact us. Our experienced team is here to meet your mining, construction and drilling needs.