Gill Beetle Drill, manufactured by Gill Rock Drill, is a simple, sturdy drill that can be designed for any type of drilling operation including rock quarry drilling, construction drilling, and geothermal drilling.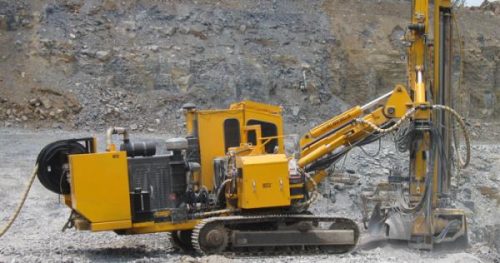 Founded in 1915 by Fred A. Gill, Gill Rock Drill's mission is to satisfy the needs of customers by providing high quality equipment, tools and service.
Rock drilling is a specialized field that requires the right equipment and the knowledge to back it up. You need a rock drilling equipment supplier like the Gill Rock Drill company that keeps up on today's advanced technology. Our equipment will make your work site safer and more efficient than ever before. The old saying, "hard as a rock," explains the difficulty involved in drilling through rock and how important it is to use the right equipment and supplier for the job.
The full line of Gill Beetle Drills can be customized for any application and can include a large capacity air compressor and trailer for the complete drilling package. Don't have all the tools necessary? Gill Rock Drill can provide you with tools and supplies including drill steel, casing, adaptors, and hammers and bits. Gill Rock also does tool joint rethreading and repair.
Gill Rock Drill offers in-house or on-site servicing and repair of drilling equipment. If your project requires equipment too expensive to purchase for your need, you have the option of daily, weekly, monthly, or long-term rentals. Further, if you're looking for contract drilling, Gill Rock Drill has a team of trained drill crew.
About Gill Rock Drill: Gill Rock Drill Company is a full-service manufacturer and distributor of drilling equipment, tools and supplies. Whether it be contract drilling, rentals, service, or support, you can always rely on Gill Rock Drill Company to provide training and technical expertise. Contact Gill Rock Drill at sales@gillrockdrill.com or call (717) 272-3861.