Gill Rock Drill Company, Inc. supplies businesses and entrepreneurs with excellent lines of rock drilling heavy equipment. Our sturdy, well-built Gill Beetle Drill assists customers in a variety of industries. Whether your business focuses on mining, construction, excavating or drilling water wells, you'll discover useful applications for this custom engineered machine!
Tailoring Products to Meet Customer Needs
Our versatile rock drilling equipment has demonstrated its utility in many different settings. We assist customers by customizing this brand to fit specific industry requirements. Our facilities include extensive manufacturing capabilities. We design, fabricate, assemble and machine tools and accessory parts and drills to suit your needs. With over 100 years of experience in this field, our family owned and operated company has developed a loyal base of satisfied customers.
Have you searched for rock drill manufacturers willing to assist you in developing specific product capabilities? Our firm produces customized blast hole drills, surface drilling rigs, water well drills, construction drilling rigs, geothermal drilling rigs, rock drill bits and other heavy equipment and tools geared towards specific niche markets. Ask us to help you obtain a customized Gill Beetle Drill designed with your company and its unique market needs in mind.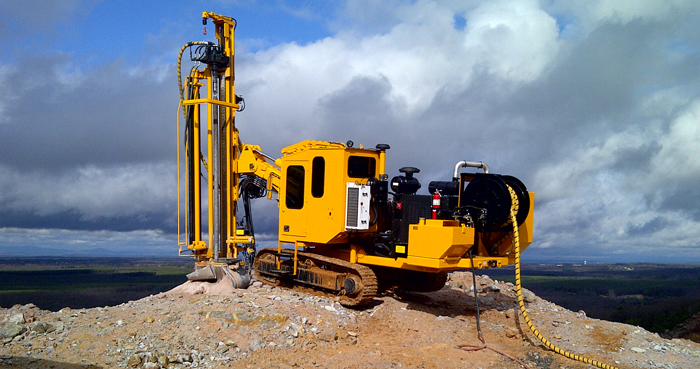 Why Rely On Gill Rock Drill Company, Inc.?
You'll gain far more utility by investing in our acclaimed Gill Beetle Drill than you will selecting generic assets sold on the mass market. Our employees care about maintaining the superb quality of every drill we produce. We help customers maintain their equipment by supplying excellent support services. When you select your rock drills through us, we can assist you in obtaining replacement parts and accessories easily on demand. Our convenient location in Pennsylvania allows us to serve customers across the Eastern Seaboard.
Additionally, our company furnishes the benefits of flexibility. Although most customers prefer to purchase equipment from us, we also offer some rental equipment and we perform contract drilling under certain circumstances. This versatility enables customers to appreciate the performance of the Gill Beetle Drill in action. If you've searched for an effective construction drill or a water well drill meeting specific parameters, contact us for capable assistance. We offer experienced, helpful input to prospective customers searching for real world solutions to challenging drilling problems.
Further Information
To request additional information, or to speak with a customer service agent, call us at 1-800-334-3117 now. You can also use the convenient website contact form. We ship custom parts worldwide!